Il Giornalino della RIDEF

We collect informations, impressions, comments, photos, videos, drawings etc. about the RIDEF 2014. Please feel free to come and meet us in classroom 8 of the school Galileo Galilei, or contact one of the people on the picture above. Any kind of content is welcome and will be published on the website. A short newspaper will be printed every day.
Il Giornalino della RIDEF n°1
Il Giornalino della RIDEF n°2
Il Giornalino della RIDEF n°3
Il Giornalino della RIDEF n°4
Interview de Claude Beaunis, FIMEM webmaster

Hi Claude, you came from France to Reggio to run a workshop about the FIMEM website, didn't you ?
Yes. I also joined the newspaper editing team : "Il Giornallo Della Ridef".
This is part of a very long-term project. In RIDEF 2010, in Nantes, France, I was responsible for both the newspaper and website. Then, the FIMEM Board asked me to develop the FIMEM website, according to the RIDEF Nantes' model. I tried and integrated everyone's needs and expectations. I built a multilingual website with a platform translated in six languages (English, French, German, Italian, Portuguese and Spanish).
On the FIMEM website, you can read the same article in different languages, at least if it has been previously translated.
The FIMEM website is a cooperative one. The contributors are also the users (consumers). I am not the one that feeds it with contents :) My job is rather to create new accounts, to train users during short workshops like the one here in Reggio. My mission is to help the FIMEM website contributors cope with their difficulties, to motivate them to develop their autonomy when adding new multimedia contents online. I also read articles and correct mistakes when I see them for example. I am a link between the FIMEM Board and the website.
How can I get a new account on FIMEM website, to become a contributor ?
Please get in touch with me. Help is also available online. www.fimem-freinet.org/en/recherche/results/taxonomy%253A101
What do all these missions for the FIMEM bring to you ?
During the RIDEF, I meet a lot of new people, from France or abroad. These connections create a network that enables me to keep up to date about the situation in many countries. I learn and share a lot of news everyday.
As part of a new collaborative project team, for instance this RIDEF newspaper "dream team", I really try and propose new ideas ceaselessly. My proposal can be accepted, or not, whatever, I wouldn't impose anything. I am very reluctant on imposing things. I prefer to clarify things. My expertise and experience of collaborative work helps me to do this. I try to express clearly, to understand others and to help the team to find its own collaborative solution.
Computer, newspaper, international network ... Are these your "profile keywords" ?
My first trip abroad was in 2003, in Bulgaria, for a Comenius Project. I participated in two Comenius Projects, from 2003 to 2009 and thus developed partnerships with English, Swedish, Czech, Bulgarian, Italian, Spanish and French schools.
I started learning computer skills in 1983. In my classroom, there was first one, then two, and soon twelve computers. In the early Internet Age, in 1999, I created a class website. Each pupil had his/her own page online, fed with work (texts, drawings, reports...) or exercises created with software such as Elsa, Elmo, from a French Association promoting reading. My class website had many visitors and we also won prizes. That supply of money was invested in new hardware for the pupils.
At the same time, I created a personal website to share my Freinet practices and tools. I put online exercises and all my tools, which in these days was not as common as it is now.
Finally, my pupils used to edit a newspaper, sent to their parents, every week or every two weeks, from four to thirty-two pages (!)
Apart from your FIMEM involvement, what are your activities ?
For the past five years, I have been working for ICEM-Pédagogie Freinet in France. I manage the ICEM website, Coop'Icem. I created the ICEM online selling site. I am making Freinet class movies, all over the country. I digitize ICEM publications and then put them online. I would like to add all of them, from 1926 until now. I also manage the ICEM computers and mailings lists etc...
What are your projects ?
In September 2014, I will retire but I will go on working, for the archives for instance. I intend to make more videos in new classes and I will follow the FIMEM website.
A retired teacher, already ?
I entered the French Education Nationale in 1974. I have been working for fourty years. Now, it's time for me to take care of my five grand-sons and grand-daughters. I wish I travelled. I would like to making on my photography portfolio, read and ... develop my computer skills:)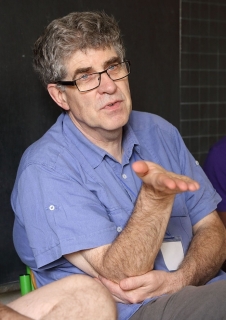 Photo of Claude Beaunis by Jochen Thiel
To learn more :
Site Coop'ICEM www.icem-pedagogie-freinet.org
Site de classe www.icem-freinet.fr/archives/sites/Blain/
Site de Claude plano.free.fr/pdagogie.htm
Site de la RIDEF de Nantes www.ridef-nantes.org/
The newspaper "dream team"
Andrea Sola (ITA), Arnout Vandecappelle (BEL), Claude Beaunis (FRA), Luisanna Ardu (ITA), Renate Thiel (GER), David Almlöf (SWE),Francesca Lepori (ITA),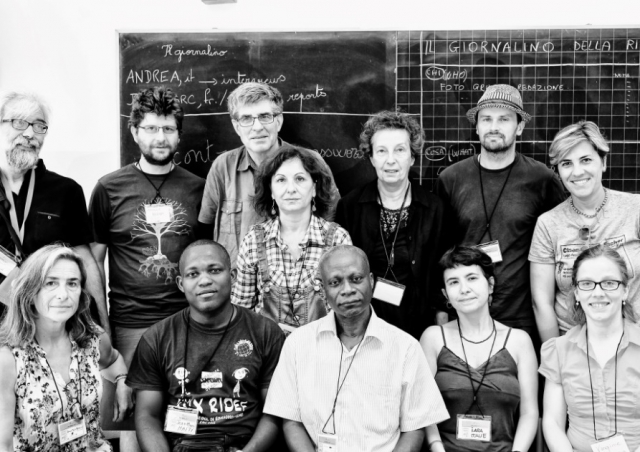 Anna Maria Matricardi (ITA), Jean Marc Henry (HAI), Jean Daye (BEN), Iara Ciccarelli Dias (ITA), Virginie Marechal (FRA)
We collect informations, impressions, comments, photos, videos, drawings etc. about the RIDEF 2014. Please feel free to come and meet us in classroom 8 of the school Galileo Galilei, or contact one of the people on the picture above. Any kind of content is welcome and will be published on the website. A short newspaper will be printed every day.
Long workshops
These are contributed articles from the long workshops. If you have something to publish, add it here or contact someone in the Newspaper Dream Team!
Eutopia workshop Grundtvig alla Ridef
by Maurizia di Stefano
Living Maths in the Freinet Techniques workshop
In our workshop today we talked about the principles of Freinet pedagogy, and after we have brainstormed to see how to apply these principles in our classrooms. We have started to give them names: work plans, free text, self-correction cards, so what's new? Ah, I have lost a tooth, which tooth ... in Austria they have a list of teeth, in Chili they have photographs of smiling toothless faces... the tooth fairy comes to get your teeth from under your pillow. And then we have seen other techniques: school correspondence, living maths ... We have compared the height of all of us and we have ordered the class from small to large ... Tomorrow, Joana will tell us a practical application of these techniques, and we'll study some of them in depth. Thanks to the translators, thanks to everybody who was there.
Alfredo López
Summary of some points made ​​in the workshop of Francesco Tonuci, "The city of children"
By Claudia Crevenna
A girl from the city of Rosario, Argentina said in the Council of Children: "The adults are the guilty of everything. We have to set limits for the adults."
A girl from Canada, at the 1992 Rio Summit said: "Adults say they love us, that we are important, that they care for us. What you do makes me cry in the evening."
Mario Lodi: "The child doesn't belong to the parents, or teachers, or the State. From birth it has the right to happiness."
Parents say: "The city is dangerous, you can not go out." So kids say: "If the city is dangerous, then it must be changed"
It is important to listen to children, they have many ideas and proposals on how they want their city. Taking into account the proposals of the children to modify spaces for them and how they want them... You need to take into account the views of the other, their point of view; but you must make sure you really are going to take this point of view into account and take action in the short term so that the children who made the proposals can still see and enjoy the change; otherwise, within a few years, the children have grown and learned that adults do not take into account their opinion and it is not worth to comment.
Listen to girls and boys and based on what they want, make change happen. Create or change public policy to do what children ask.
In public spaces, all signs prohibiting children play are illegal according to Article 31 of the Convention on the Rights of the children, which mentions that they have the right to play, rest and leisure. In a world full of noise, it seems that the only noises that bother people are the children when they play ... You can ask them "Please" to avoid certain games in certain areas, but NOT to ban play outright.
The right to go to school is in Article 28 and the right to play in the Article 31, however they are not respected in the same way. The law to go to school has been advocated and demanded a lot, but not the right to play, there is no equality. Time for school eats away from the time at home. It seems that adults have forgotten that what is learned through play is learned forever. School time should be equal to play time, there should be no home work or duties that occupy the time of the children at home. It is valuable time to learn and discover.
The Council of the children of the city of Rosario, Argentina has proposed that there is a day dedicated to play, just like a birthday. With 3 conditions:
1 -. That it is a normal working day, that schools are open for play.
2 - That the council people have 1 hour to play on weekdays.
3 - That some streets are closed to play in them.
TalentPrint - The first TalentPrint of Salida, Huda and her baby
In the long workshop about TalentPrints, Salida and Huda have made their first TalentPrint.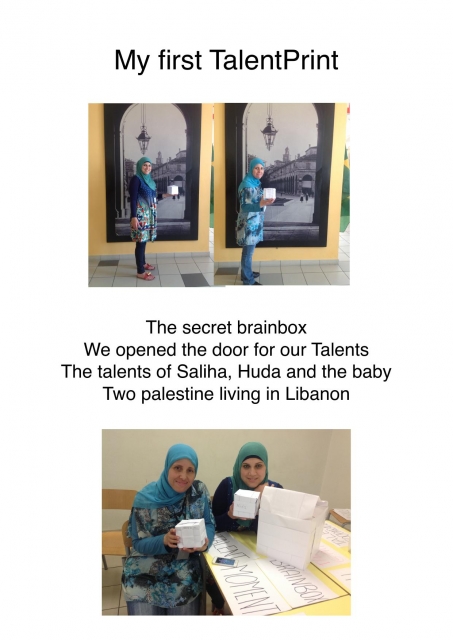 To Be Happy - 100 Kids Activities
Para Ser Feliz – 100 Atividades Infantis
Waldilia Cordeiro
Ana Beatriz Vale
Maria Jose de Moura
We started on the morning of July 7th, 2014, in Reggio Emilia / Italia, the long workshop ''To Be Happy - 100 Kids Activities - The Benefits of play activities for the Development of Boys and Girls''.
We found the room number 07 in the school Galileo Galilei with the organisers Waldilia Lamb, Maria Jose and Ana Beatriz de Moura Valley, fellows of the Regional Movement Modern School North and Northeast of Brazil, affiliated to FIMEM. The space was filled with material, indicating that many activities would be conducted experientially during the period of that workshop.
We received on arrival a popout with the workshop logo on the front and the back, the frame to be filled as cooperative planning to be held at the beginning of each morning. We also received a T-shirt of the workshop and a bottle for water, favouring living in the classroom, meeting the need for hydration.
France, Italy, Germany, Brazil, Georgia, Romania, Finland, Sweden, Japan and Cote d'Ivoire - At first, the presentation of guidelines was performed and the thirty comrades enrolled in the workshop reported their country of origin . Then each participant received 100 cards with information of activities to be experienced, a summary table with these numbered and illustrated activities and also a text-synthesis containing the title, skills to be stimulated when the activity is developed, the possible realization of spaces, the necessary material, the age range of children who may practice such activity, as well as the number of participants.
Six activities - the number 47-52 - have been proposed to analyze and musical chairs was selected to be experienced by the participants. All practiced musical chairs - activity number 47 - and commented on its benefits to the development of boys and girls. The practice allowed participants joy, companionship and understanding. Then, the proposed activities were analyzed in a group, as practiced interest. The guidelines circulated by groups clarifying doubts, raising fundamental questions.
The smile stayed on the face of everyone!
Activities were carried out within the living room and courtyard, reminiscent of childhood games and allowing the motor coordination, mobility, agility, handiness, language and socialization.
At the end of each morning evaluated the work carried on in a cooperative way, so that all actions were guided by the principles and techniques of Freinet Pedagogy.
Associations on Bologna
These associations I connect so far with the city of Bologna:
| | |
| --- | --- |
| Bologna Process | Unpleasant consequences |
| Terrorist attack of Bologna | Controversial explanation |
| Bolognese sause | Hm, yummy |

The concept is to unify European study programs and degrees with Bachelor and Master. It started in 1999 in Bologna, when the European Ministers of Education signed a statement of intent. After 15 years of the conversion process of the university system unpleasant effects are clear: the tendency to make it more scholastic. Especially in Germany, it is characterized by extremely long course time and little room for personal study. The Bologna process restricts free learning enormously.
Attack of Bologna
In the bombing of the Bologna Central Station on the morning of August 2, 1980 85 people died, more than 200 were injured. After a tangled process, a still controversial sentence was spoken in 1995.


Bolognese sauce is is a rich stew, which is preferably served in Italy with tagliatelle. It is also often part of Lasagne. The recipe was first published in 1891. To stop the various modifications a truly authentic recipe has been written by the Italian Chamber of Commerce.
Beautiful Resistance
On Tuesday 22/8, there was a short workshop about the Al Rowwad organisation. Active in Aida refugee camp near Bethlehem, Palestine, the mission of this organisation is to allow young people to express themselves through theatre, dance, photography, painting, and just playing. By expressing themselves, they can be hopeful again, and make beautiful resistance against the ugly oppression. It is better that they live so that Palestine can live, rather than they die so that Palestine can live.
Abdelfattah, who is the director of Al Rowwad, gave a magnificent presentation of Al Rowwad to about 60 interested people, simultaneously in English and in French. It ended with a video which can also be viewed online (look for Alrowwad Beautiful Resistance in your language of choice). Regardless of the heat in the room, most people stayed for a long time to ask questions.
Children's Rights in México and Latin América
Classe de Christophe Amoussou (Bénin)
Dossier of the RIDEF 2012 in León
A dossier of the RIDEF in León is available on a pen drive. One pen drive is foreseen for each participant of that RIDEF. They have been given to representatives of each country, together with a list of the participants from that country. Those who have not yet received this package should search a member of the MCEP to get it.
Drawing in cooperation
On a piece of paper, Katja, Lucie, Annie, Geraldine and Mika decided to create together a strange animal: they called it KLAGM, with the initials of their name.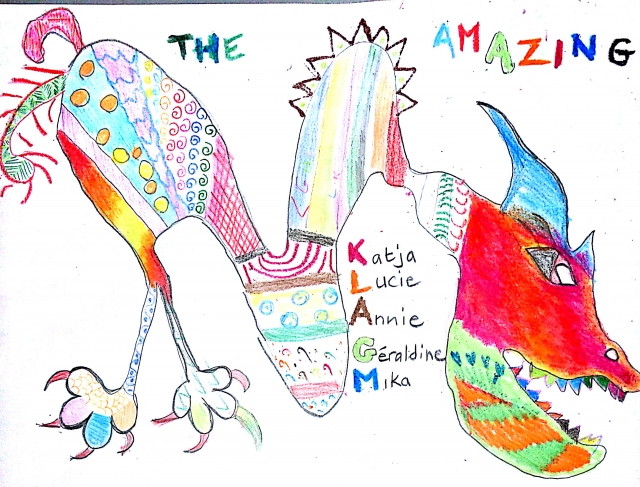 Haiti
Haiti, four years after the earthquake



Jean Marc is keeping the connection between Haiti and the Freinet movement since the RIDEF in Nantes in 2010.
In Haiti he organizes meetings, where meanwhile about 12 teachers attend, who are interested in teaching Freinet method. Their pupils write letters in French to other schools in Haiti. One class has been writing since last year to one CM2 in France.
Four years after the earthquake the school situation in Haiti is extremely bad. Many schools are still destroyed. More than one million children cannot go to school. From the existing schools 20% are public schools, the rest are private. In the public school classes are 45 pupils.
Instead of building new schools for all children the state gives money to the private schools for each child $90. This decision of the new government doesn't give a chance to get more children in schools.
Interview of Célestin Freinet on a radio broadcast

Célestin Freinet in 1958 : "We are teachers. That's our choice. But, teachers are used to working alone. When they succeed in doing something, they don't dare sharing with colleagues, for fear of comments such as "who do YOU think you are, what are you talking to me ? " When they fail, obviously they won't speak about their failure at all . That's why, teachers could't progress. How progress when not being able to share mistakes and success ?
We are in 2014. How, when and where can we share ? How can we do for us, between us, as teachers, what we've identified as a key to help our pupils learn, that is cooperation ? This question relates to others ... The RIDEF is going on ... This question is not answered yet...
Interview of MASAKO SAEKI, MIKI IGARI, ATUKO MIYARA and YUKO OKANIWA.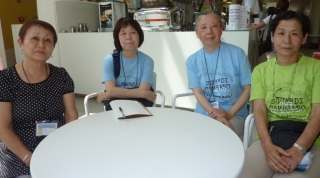 On this picture, from left to right : Yuko, Miki, Masuko et Atuko.
They are talking about the Japanese presentation in the RIDEF intercultural night, about the strong links between the Italian Freinet movement and the Japanese group, about their stay in Reggio...

"RIDEF Reggio has given us strength, we are happy to be here."

Translation French-Japanese by Masuko.
Good afternoon Ladies,
In the RIDEF intercultural night that took place on Sunday, the 27th of July, the Japanese performance has been very appreciated by the audience. How did you work together to prepare your presentation ?

First, we had decided to sing a song. Then, two, one in Japanese and one in Italian. As far as the Japanese song is concerned, we had to be familiar with it, so that everybody's here, coming from Japan, could know it. That's why we set our mind on a very famous song in Japan, related to homeland.
Then, we said to ourselves : "only songs, it's a bit sad, isnt'it ? ". Therefore, we took advantage of the presence among us of a very talented performer. We asked this artist to prepare a scene but under the condition that he should NOT try to make laugh, for the song is full of melancholy, speaking of a landscape gone for ever.
When the disaster happened in Northern Japan, we started to sing this song very often, because it expresses feelings of melancholy that we have suffered from all around our country. So, it is clear now that the Japanese presentation in the RIDEF night could not by funny.
However, as far as the second song is concerned, we wanted to sing in Italian, to express our friendship and gratitude for our Italian guests during the RIDEF. That's why it was a very happy song. And we were lucky to be able to rely on a very talented singer !
What are the connections between the Japanese group and the Italian Freinet movement ?
Our movement has been founded by Murata Eichi. He used to feel really close from the Italian Freinet pedagogical approach in Italy and he was keeping on saying that the MCE (Movimento di Cooperazione Educativa) is very interesting.

Indeed, since our arrival in Italy, we have already visited very interesting places such as Giancarlo Cavinato's or Leonardi Lenoetti's Schools, in Venice and Napoli...
Finally, I would remind you that the Italian movement proposed Japan to the board of directors when our group applied for becoming a member of the FIMEM.
So, the Freinet partnership between Italy and Japan is old and strong.
During the RIDEF, people were happy to experience body and/or creative workshops, prepared by Japanese members. What about this kind of workshops in Japanese schools ?
In Japan, there are teachers and educators practicing Freinet pedagogy but there aren't "Freinet schools 100%" yet.

How did you choose your long workshops ?

Atuko : As I don't speak foreign languages, I 've chosen a workshop where I thought I would'nt need to speak much : walk around the city. The language caused sometimes trouble but it's OK, it was not really a problem.
And after all, I'm here in the RIDEF to experiment and face difficulties :)
According to you, how was your stay in Reggio during the RIDEF ? Which advice could you propose for the next RIDEF?

The various places may be not so far from one another. Our hostel was very far away from Reggio Children Center. Meals were delicious. As far as communication is concerned, we regretted sometimes not to be able to follow discussions because of the languages. Perhaps could we ask for more English translations, for instance during the excursions ?

It's a long way from Japan to Reggio. Will you stay longer in Italy after the RIDEF ?

Yes, most of the Japanese people will go on travelling and visiting.

Do you find that the RIDEF 2014 has a positive impact ?

Yes, the RIDEF has given us strenght. We are very happy to be here.
Thanks a lot Masako, Yuko, Atako and Miki !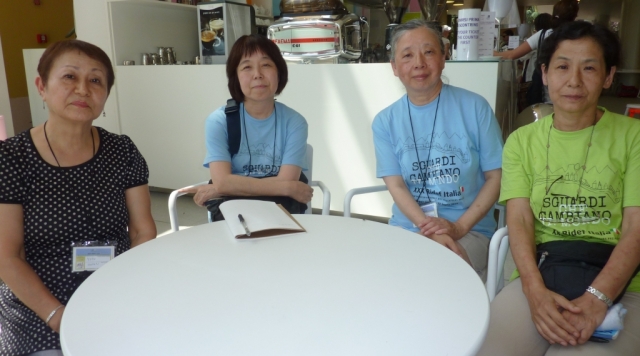 Interview with Mia Vävare, CA member of FIMEM
Mia Vävare is the Swedish representative in the board of FIMEM, since she replaced the author of this article. She arrived to Reggio for the CA-meeting this Sunday.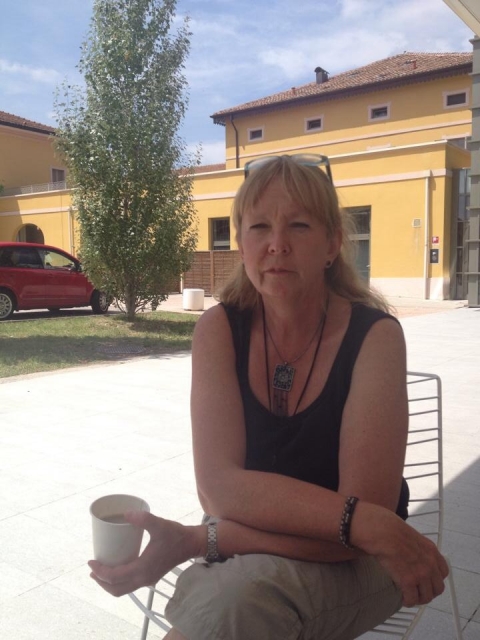 What has the CA worked on since last time?
Well, we have discussed the result of Giancarlo's visit in Benin. He has been
presented the logistics and the organization.
Another thing is the
current RIDEF in Reggio since FIMEM is one of the financiers.
We have also been involved in the book project about children's rights that Giancarlo and the other Italians ha
vestarted. Pupils write about their reality. The result will be presented on the RIDEF.
Well, another thing is the
approval of new movements, for example Haiti. An advisor for each movement shall be elected. For instance Mexico will help Haiti. There are also a lot of practical things to do: work with the budget, writing reports, etc. It will be a challenge to go further without three trendsetting persons who will leave the board this year: Renate, François and Pilar . Let's see who will replace them.
Which is your role in the board?
My task has been to translate into English and to be the communicator between the board and the Swedish movement since we
are candidate for RIDEF 2018. It's stimulating to be a member of the board since it's really competent persons who work there.
We are a good team. You have to cope with sitting in very long meetings...
You have to be patient even when you don't understand everything immediately. Sometimes I have to break the discussions in French to take it in Spanish or English. French is the first language since everyone in the board understands French.
Does the board discuss the future a lot?
Yes, we do. But we have no plan for rejuvenation. I think that the national movements are respons
ible for that. Everyone would love to see a rejuvenation but it does not come by itself.
Invitations to discover Freinet practices in Japan, RIDEF 2014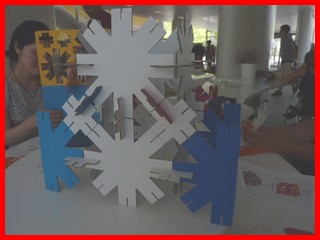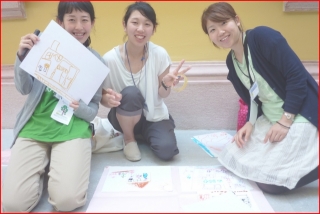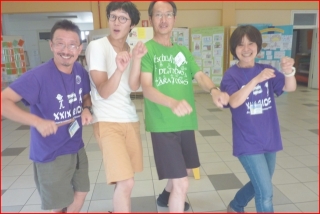 Yokohama Kindergarten

Mika HORI, Sawako IKEDA and Yoshiko W. are working with young children in Yokohama. They would be happy to meet you and speak with you about their practises. They can show you drawings, photos and comment them.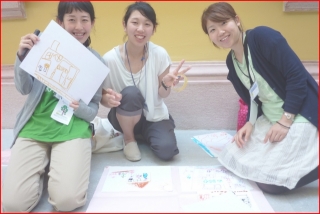 Short workshops
N°29
Yoici WATANABE and his team would be very pleased to move and make you move in a Japanese traditional body workshop : let's have fun and learn with these four friendly people !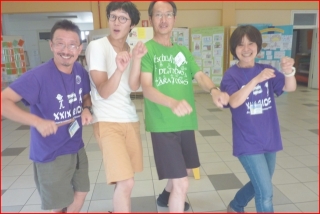 N°39
Creative patterns workshop.
Kyoichiro ANDO is a professor in Art Education, in Kagawa University. He will share his practises of collaborative work. With his team, you will play, learn and create infinite quantity of creative patterns using original cardboard. Amazing cooperative unexpected creations to be followed ...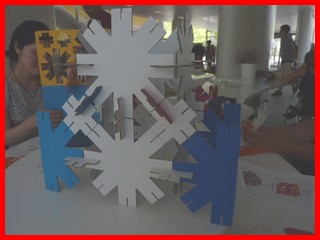 Pour en savoir plus :
Site de l'université de Kagawa www.kagawa-u.ac.jp
Palestinian teachers from Lebanon.
Saliha and Huela are Palestinian teachers.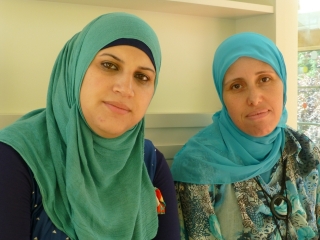 They have lived in Lebanon in camps for more than 20 or 30 years.
They teach children in a school from the UN in Arabic and English.
For the cooperative dinner they gave us a delicious salad to taste.
Because they always have to wear their hijab, that is the scarf, they have a problem here in the RIDEF. They are accommodated in a place, where they cannot reach the showers without passing rooms where men live. Someone of the staff is trying to find a solution.
Pen -friend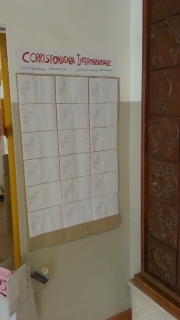 Have you already got a Freinet pen-friend ?

Couldn't you find one yet ?

Ok! Don't worry, be happy, it's high time RIDEF helped you find your international pen-friend !

How ? Go to the hall of Galileo Galilei School, on the left, there is now a message board dedicated to pen-friends.
Write your own profile (contact, desires, country, ...) on the message board and/or select one. Done !
RIDEF multicultural evening
Programme of the evening

First group : BRAZIL
About 40 Brasilian people, men, women and children, have shown us a folk dance, the QUADRILHA, that happens in traditional fiestas taking place in June, to celebrate harvest and marriage. Couples are dancing together, in line or in a round.
Second group : SWEDEN
The Swedish moment was a presentation entitled "Freinet in Sweden" : schools, website, annual meetings, newspaper ( Kaprifol), webnews (No limit…), political events, annual democracy open-mind award... About 30 Swedish people were on stage. Photos of Swedish Freinet schools : Tallbacken Skolan, Hugin, Kastanienskolan in Stockholm, Drakbergskolan in Goteborg, Freinetskolan i Lund ...

Welcome to Sweden 2018 ! In Ljungskile … If you want.
Third group : BENIN
After a presentation of the country : a video introducing Benin as "a laboratory of democracy in Africa", "country of dreams and evasion" … and of motor-bike taxis :), we could see two traditional dances.
An invitation to meet in 2016, in Benin …
Fourth group : SWITZERLAND
The Swiss group has shown us a collection of Swiss paintings, that were hanging in many apartments during the 70s and 80s, illustrating the changes in the environment during 20 years.
And today ? And the children ? And our work at school ?
Fifth group : MEXICO
A presentation of the political context. In 2013, drastic measures and a severe educative reform have badly damaged Mexican teachers conditions of working. Protests, demonstrations have followed. The fight is still going on to defend the right to be educated by trained educators.
"Education pública, gratuita, laica, para tod@s" , "la reforma educativa es un engaño" , "Construyend la otra education"...
A letter to Sophie, a daughter, waiting for her mother, fighting for the cause, with courage.
Felipe, why are you not a "normal" teacher, living a still and quiet life ?
As a conclusion, the Mexican group reminded us that "an educative action is mainly political".
Sixth group : GEORGIA
The two representative of Georgia have presented a song for peace, happiness, love, friendship… all over the world.
Belgique - Belgium - Belgio - Bélgica
Présentation de la Belgique lors d'une soirée multiculturelle.
Presentation of Mexico
Resistance camp. Revolution Monument. México D.F., October 3, 2013
Dear Sophi,
We want to say sorry for abandoning you many days. We imaging you are sad, alone, far away of us when we love so much, and we are so far away from you when you love us.
We are orphans of you, and you to us.
We don't know if we will win this fight. There is so much uncertainty all the time…
…We will be able to look you in the eye with dignity, and tell you that we fought with courage until the end. That we have not run like cowards, watching our rights trampled. Our most elementary rights, human rights, the right we have to educate you and to be educated.
Teacher Felipe:
This moment of mobilisation is so difficult for the communication with my family. Zully, my wife tells me: "Why? Why are you not a normal teacher?"
If I move me the love, the love to a dignified life. Live and a tranquil life. I know I will be soon with my family. Embrace them and kiss them In this moment I will cry and I will overflow them with my love. The time are not sufficient, but be a small "piece"of I feel. I Talk with them of the fight, to the dignity at are my commitment and my integrity, I will say I am have wings to fly, my friends are my family. I talk to the discomfort that we face day to day, to the days we don't had to eat. I tell them so hard the raining days and we don't sleep. But i tell them my reminding for stay with them in every moment.


MANIFEST:
We will say the MMEM and MEPA participate and support the teachers movement against the educative reform in Mexico:
It is not an Educational Reform but a labour reform.
That deletes to teachers maintain the dignity in their profession
That exposes them to loose their job
That declares that the state will not be responsible og the maintenance of schools.
That ignores the educational programs that emerged from each region.
That proclaims that good quality education is measured by standarized exams.
An educational action is mainly political.
Two years after the earthquake in Emilia Romana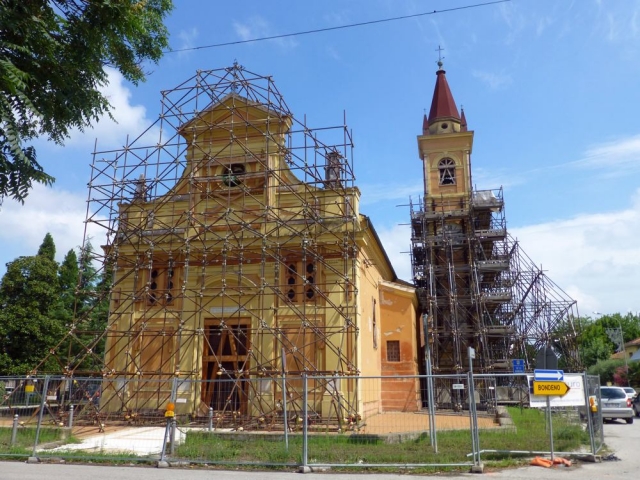 In May 2012, Reggio Emilia was the epicenter of an earthquake with a magnitude of almost 6.0. Fortunately, there were in this city neither injured nor significant property damage.
Due to numerous aftershocks 17 people were killed in Emilia Romana, the region affected by the earthquake (with the cities Modena, Ferrara, and Bologna) . Most of the victims died in factories and warehouses.
Thousands lost their homes.
The quakes destroyed cultural treasures of inestimable value.
Even today, you can be see the damage to centuries-old churches and palaces everywhere in the region. Many are fenced off for safety, are in scaffolding, and are no longer accessible.
The earthquake also destroyed hundreds of small businesses, ninety percent of which were operated by women. From one moment to the other, the local shops, bars and shops had collapsed or had to be closed. However, the owners did not give up, but joined to the network "EmiliAmo" together.
First, the women work on markets. Through the cohesion they also strengthened psychologically and earned enough to open their shops for the most part again.