Submitted by Renate Thiel on 23/07/14 – 11:24
Saliha and Huela are Palestinian teachers.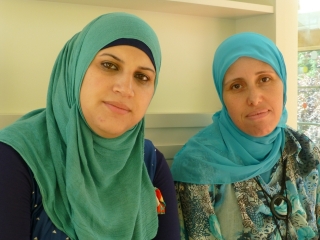 They have lived in Lebanon in camps for more than 20 or 30 years.
They teach children in a school from the UN in Arabic and English.
For the cooperative dinner they gave us a delicious salad to taste.
Because they always have to wear their hijab, that is the scarf, they have a problem here in the RIDEF. They are accommodated in a place, where they cannot reach the showers without passing rooms where men live. Someone of the staff is trying to find a solution.