Submitted by Sylviane Amiet on 20/04/18 – 17:38
Posted in
MCE
MOVIMENTO DI COOPERAZIONE EDUCATIVA
(The National Secretariat of the MCE / Movimento di Cooperazione Educativa )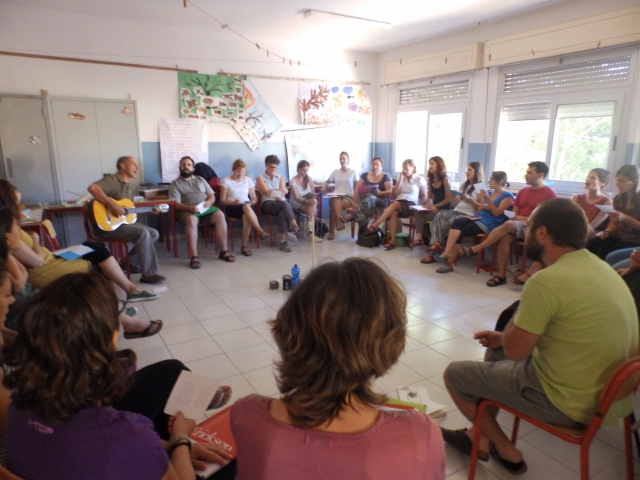 ACTIVITY REPORT
The MCE (Movimento di Cooperazione Educativa) in the 2016/2018 biennium has carried out the following activities:
ASSOCIATION LIFE
1) National Assemblies
- December 2016 - LXV Florence Assembly
- April 2017 - LXVI Rome Assembly
- March 2018 - LXVII Florence Assembly
results: approval of the Internal Movement Regulations, Assembly Regulations, Pedagogical-political proposal: "The four steps MCE", renewal of statutory bodies, editorial policy, training projects.
2) National coordination
- September 2016 – Rome - September 2017 - Rome
results: deepening of the pedagogical -/politics line, internal organization, care of the group delegates network, assembly preparation.
3) Meetings of different Publishing Commission for:
- publications, cooperazione educativa (national magazine) (paper and online), social: site, fb, twitter; relationships with publishing houses.
-
4) Meetings Documentation Center
- classification of MCE documents and publications; research and evaluation of the new location.
TRAINING INITIATIVES
5) National seminar days
- Rome, Giornate zerosei/ towards an integrated system (nursery school) 2016
- Bologna, A school of inclusion - May 2016
- Genoa, Assessment and didactics of competences - November 2016
- Bologna, special needs and the hyper categorized epidemic - April 2017
- Bologna, A school, many languages, languages ​​and democracy - April 2018
6)National Courses for teachers Trainings included in a ministerial platform :SOFIA
7) Summer courses "Cantieri per la formazione " "Worksops about training aspects"
- Second edition Genoa, "Scuola sottosopra" - July 2016
- Third edition Pisa, "When something goes wrong - the stumbling block in education" - July 2017
- Fourth edition Foligno (Perugia), "Metamorfosi- educare / rci al cambiamento" - July 2018
• Each edition welcomes between 120 and 150 participants
Pisa, July 2017 Construction sites for training
PEDAGOGICAL AND POLITICAL INITIATIVES -
8) Participation and publications of MCE documents following the hearings at the Ministry of Education on reform processes (L.107 / 2015 ' for a good school') and on topics such as Millennials, Gender equality, New technologies
9) Pedagogical-political tour "Another school is possible": round tables and workshops in 20 cities.
10) Campaigns involving schools, public opinion and politics:
- "Against the votes "
- Citizenship for pupils of sons immigrants ( ius soli- ius culturae )
- But what does it means "ius soii"?
- I believe the right to stay alone….
11) The national secretariat proposes 4 small steps to transform the school and the relationships within it:
* a democratic and participatory organization
* open classes, laboratories, for operational teaching
* school libraries and limited use of textbooks for a variety of sources of accessing to knowledge
* a narrative and formative evaluation against the use of numerical votes, competition, devaluation; evaluate = give value to something
during the two-year period, the MCE has formulated proposals to the school unions and professional associations for the renewal of the teachers' contract and adhered to civil society campaigns against racism, gender violence, inclusion and citizenship rights.
BOOKS PRESENTATION
o A. Goussot "A pedagogy for life" - Rome, Milan
o R. Rizzi "Popular Pedagogy" - Bari, Bologna, Cagliari, Rome, Piacenza, Milan, ...
o R. Iosa (edited by) "Generation don Milani"
o G. Cederna "Atlas of educational poverty" Save the children
o G. Marastoni "Let's Make Geometry" Florence, Mantua
o C. Degli Esposti - N. Lanciano "The mathematics of Emma Castelnuovo" (the MCE inherited the Emma Castelnuovo mathematics library years ago)
MCE CONFERENCES IN COLLABORATION WITH INSTITUTIONS AND ASSOCIATIONS
- Conference 'The legacy of the great teachers' University of Bologna April 2016
- Convention D. Milani foundation d. Milani Vicchio Fiorentino May 2016
- ADI-MCE Conference 'At school it's good if ...' Bologna October 2016
- Reggio Children, Reggio Emilia, November 2017 - "Educating is an act of participation" - study seminar on J. Bruner -
- FLCGIL trade union conventions: New work contract - Rome, July 2017; "The school that will come" - Rome March 2018
- GISCEL and other associations: A day for Tullio De Mauro and the democratic linguistic education - Rome November 2017
- MCE- PROTEO FARE SAPERE: "Pedagogies of the 900: Freinet. Don Milani, Freire "- Padua December 2017
Inter-association activities: the MCE is part of regional forums (Piemonte and Veneto) and of the forum of professional associations recognized by the Ministry.
MCE HOUSE LIFE
Cooperative Groups have grown in the various territories: they have hosted workshops proposed in the editions of " Cantieri / Workshops about training", the meetings of the pedagogical tour, they organized training workshops and participated in countless initiatives with schools, municipalities, friendly associations.
During the two-year period we had to face difficult conditions for survival that we are trying to overcome :
- eviction from the national office (as for all associations working in public offices in Rome);
- the MCE Documentation Center (67 years of works, materials, experiences, ...) was ejected from the school where it was located and we are searching for a new location opened to teachers student researchers;
- closure of the relationship with the publishing house that edited "QUADERNI DI COOPERAZIONE EDUCATIVA" and the "BUBLIOTECA DI LAVORO" and the problematic copyright recovery of over 50 texts published in 15 years.
WE dedicated to this problems a lot of time and energy (in addition to the costs for appeals to the Court against eviction), as they are essential for us to survive.
A national office must necessarily be located in Rome. This is why we are moving, with great effort and sacrifice, towards the purchase of a safe and stable home for MCE.
The national secretary Giancarlo Cavinato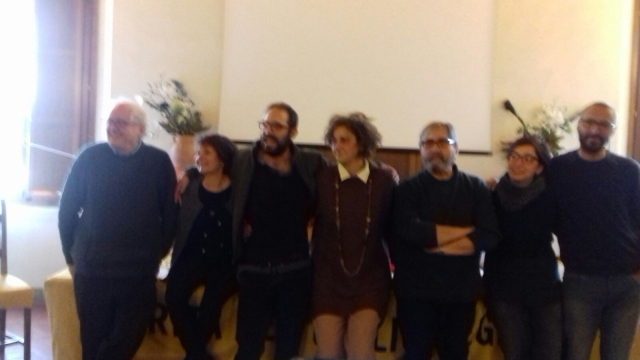 en partant de la gauche: Giancarlo Cavinato, Maria Antonietta Ciarciaglini, Marco Pollano, Anna D'Auria, Memi Campana, Rosy Fiorillo, Luca Randazzo