Submitted by Mariel Ducharme on 02/03/19 – 10:56
Posted in
We have set up a working model for virtual AG in
courriers pour l'AG
to read as soon as possible
You will find the letter concerning the virtual GA in the COVID space... and of course in the latest documents.
All the exchanges will go through the site, through the VIRTUAL GA space.
April 25, 2020
A small survey on the possibility of a virtual GA from 20 to 29 July 2020. Stay tuned...and react quickly (deadline May 15, 2020)
We look forward to hearing from you!
You vill find the administrative documents concerning the AG 2020 in the FIMEM reserved area
April 5, 2020
"We are not alone" C. Freinet
Greeting to all,
Due to the exceptional circumstances of the COVID-19 pandemic, the RIDEF Organizing Committee has officially decided to cancel the Rencontre Internationale des Éducateurs Freinet. (Ridef 2020) This decision, after five years of collaboration and hard work, was not an easy one. However, it was inevitable considering the evolution of the measures being taken and recommendations made by the WHO and governmental authorities.
This year's RIDEF meeting will not be carried forward to 2021. This is due to economic instability, both local and world-wide. Also, other organizations and associations already have events planned for 2021 and RIDEF 2022 is scheduled to go forth in Morocco.
Currently, the RIDEF organizing committee is working to terminate the 2020 meeting and refund our participants. We will keep you up to date with developments via the RIDEF website and Facebook page.
We would like to take this opportunity to thank everybody who has lent a hand throughout this wonderful project, both at the local and international levels.
On a final note, we encourage you to take care of yourselves and your loved ones. As Freneit himself said in 1924, "We are not alone".
2020 Quebec RIDEF organizing committee.
March 27 th
You vill find now the documents necessary for the GA 2020 in the FIMEM reserved area.
March 13th
COVID 19
The next meeting of the RIDEF 2020 organizing committee will be held on April 4. We hope to have all the relevant information to make an informed decision regarding the holding of RIDEF 2020. In the meantime, we are vigilant about the current situation and we are following the evolution of the COVID 19 pandemic. The decision we will make will be based on information from the FIMEM Board of Directors, the Public Health Agency of Canada, Quebec, Canadian and international government measures.
Don't worry, we will keep you informed as soon as possible and we thank you for waiting for our next message on this subject before asking us about the possibility of cancellation, reimbursement, etc.
Organisation committee
le 18 février
We had a very interesting exchange with the ERM, concerning FIMEM's finances and the management of the AG https://www.fimem-freinet.org/fr/node/3614
January 28
Beneficiaries of solidarity 2020 including aid from the Movements and individual donations.
Here are the principles that guided our choices
- Given the available budget and the costs of flights to Canada, which vary greatly depending on where they come from, we decided to offer a larger amount to each successful recipient. As a result, we had to resolve to assist fewer Movements.
o Beneficiaries were selected from Affiliated Movements only (contributions as of December 2018): Benin-Burkina FasoCameroon-Mexico-Senegal-Togo-Uruguay
o The sum will be given to a single person ...free for the Movements to share it or not with other members. If so, all the names must be communicated to us by Friday, January 31, 2020.
o You will therefore have to choose :
the delegate and liaison officer of your Movement (new: 2-year mandate) - this person will have to have a good knowledge of the proceedings of a GA, of the positions of the Movement before the Ridef and agree to act as liaison officer between the Ridef;
the representative for affiliation - this person should be very involved in the creation or development of the Movement or the working group: Congo and Ghana.
the representative of the next Ridef - this person will have to be very involved in the organizing committee of this Ridef: Morocco, Bulgaria
*Even if all the amounts are not yet known (deadline end of February 2020), ALL those interested in participating in the Ridef must first REGISTER (Ridef 2020 website). The further examination of the registered persons and their payment (if solidarity and visa confirmed) will be done in a second step but they will already have a registration confirmation, very useful to start the visa procedures. Once everything has been checked, the invitation letters will follow.
Mariel Ducharme
For the Fimem Board of Directors
December 21-2019
Long live to Christmas and the New Year
for the luxury of laughter,
to knock out the worries,
to take life
slung
and
to blossom it with Love...
all the time,
all the way around!
Happy Holidays to you and to all yours

Happy 2020!

Mariel Ducharme

For the Fimem Board of Directors
Movember 23
The report of our activities this autumn is now on the site.
November 14
The Infor and the President's letter are now on the site.
They are placed in the FIMEM area. You need a code to get in. You can ask Claude Beaunis claude.beaunis@icem-freinet.org
Thanks to Claude for the new version of the site....
If you have any suggestions for further improvement, write to him....
8 november 2019
We remind you that solidarity requests must be received by the CA-FIMEM
before 39 November 2019
Monday, October 21, 2019
As the names and contact details of CAs change frequently (at least every 2 years), we recommend that you also open an address for your "Movement". This would greatly reduce the number of names on our mailing lists and make our lists more sustainable.
Forget this message for the Movements that already have one and have communicated it to Fimem
For those who do not have one, would it be possible for you to create one and send it to us?
Thank you in advance!
October 15
You have two weeks left to register for the Biennale de Poitiers.
Congratulations to all those who have been able to benefit from ERASMUS to go there.
You can follow the productions live in the tab on the right of the home page.
Commission 6: Permanent organisation of the Ridef is looking for participants to start its analysis from 12 October.
If you want to participate, register at. comission6ridef@gmail.com
Tuesday, October 1, 2019
The guidelines for solidarity for the Quebec Ridef 2020 are now on the website.
Tuesday, September 17, 2019
Be on the lookout...the work done during the Annual Meeting of the Fimem Board of Directors will be available here very soon.
Hey, the Commissions are launched... they're just waiting for you!
Watch the Fimem website and your email for more information.
May 1, 2019
We are sad about Yacouba's problems.
You will find more information in the space reserved for FIMEM
April 19, 2019
We will not forget you...more news very soon!
Have a good long weekend!
March 2nd 2019
Brochure 2018-2020
The update of the French version is posted on the site. The "English and Spanish" versions will soon replace the 2016-2018 leaflets, which are currently available on the site.
January 6, 2019
Keep your eyes open ! The documents initiated in Ljungskile will be gradually posted on the site this week:
Already available: Rules of Procedure-3 languages-the voted articles have been added to the initial document (right column, rules tab, statutes,...)
Coming up by Friday, January 11, 2019: The French versions of the Chair's letter, Infor # 71, the summary of the GA deliberations, the quarterly report of the Board's work and leaflet 2018-2020. Translations will follow soon!
Happy New Year and have a good reading!
Translated with www.DeepL.com/Translator
I am enjoying this wonderful Time of the Year
to wish you all the things you can't buy:
health, pleasure, relaxation,
energy, harmony,
and above all
time and the right to dream
it is, by far, the most precious gift!
Merry Christmas and a Happy New Year 2019!
December 14, 2018
A 5th member on the board of FIMEM (from January 2019 to July 2020)!
Welcome and thank you to Flor from Mexico!
November 30, 2018
The general report of the Ljungskile GA is posted on the site. In the space RESERVE for FIMEM You will be able to read the full report in French, as written by our 2 secretaries in July 2018: Christian from Québec and Amandine from France. Many thanks for this tremendous work! However, for Christmas we will offer you a summary of the decisions taken at the GA 2018, in 3 languages this time.
We were late in releasing the general report because we hoped to do so at the same time as Infor # 71, but obviously it will not be ready until January. We are very sorry for the long delay!
SOLIDARITY
The solidarity report for Ridef 2018 (beneficiaries and donors) is available on this website in the space reserved for FIMEM. It's time to use your access code or ask for it if you haven't already done so.
COMMISSIONS TO ADVANCE
During the Swedish Ridef, you have committed for creating commissions to help the Board and to move forward on issues that need updating.
Now it's time to think together and get involved in these various commissions.
We already have several coordinators ready to start the discussions. Many thanks for your availability.
Categorization and Contributions (cotisations): Andi Honegger
Translations: Marta Fontana.
Communication: Hélène Aubert
helene.aubert@icem-freinet.org
FIMEM website: Claude Beaunis
claude.beaunis@icem-freinet.org
Of course, there are other folders to support:
International relationships : ……………….
Organization of the Ridefs: ..................... ..
Orientations: ......................
Statutes: ......... ..
Internal rules (Règlement Intérieur ) : .............................. ..
Other: .........................
We need the energy of everyone, so get in touch with the coordinators to organize your work ....
... Or do you propose to coordinate a new commission.
See you soon
For the CA
Sylviane Amiet
We are surprised and sorry to discover that in recent years, school directors from various parts of the world have been trying to make Freinet's name a national label that gives them the right to control the productions of their colleagues as well as Royalties.
FIMEM strongly opposes this process:
Freinet's name belongs to his own family and they alone can decide how to use it .. and especially ..
Freinet himself has always opposed the labelling of his "pedagogy", when absolutely contrary to the fundamental principles he has always defended from cooperation and collaboration.
We invite the national movements of FIMEM to publicly oppose these attempts to capture the name
FOR CA-FIMEM
Sylviane Amiet
16/09/18
A little reminder
To be able to consult the "FIMEM reserved" documents, which are regularly posted on the site, you must:
- use one or the other of the 2 access codes given to each instance of the Member Movements (if you forget, Claude Beaunis could, on request, provide you with new ones).
- Then, identify yourself with your code in the "internal space" tab each time you want to access all the "FIMEM reserved" documents. Useful at all times but essential after a long absence from the site.
Have a good navigation!
A wall of Mail-Art at Ridef 2020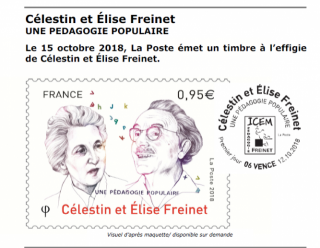 Participate in this artistic project with your students!
A good way to remember our federation and the memory of Elise and Celestin Freinet.
https://www.fimem-freinet.org/fr/node/3289
July 15th
Good news!
3 recipients will share the Benaiges Bursary in 2018. The jury will make the official announcement at the Swedish Ridef.
Congratulations to all those who, directly or indirectly, made this happy outcome possible!
Urgent
If you would like to pay tribute to your "disappeared" from 2016 to 2018 at Ridef 2018 (people from your Movement/countrie heavily involved in PF), please complete the "in memoriam" tab on the ridef.one website
Short text on the site and/or speech of a maximum of 2 minutes at the opening ceremony.
June 10, 2018
The last documents for the GA (3rd mailing) are deposited on the site.
Letter from the Presidency
·
Moral report and activity report 2016/2018
·
Orientations-balance-sheet 2016/2018 and forward-looking ones 2018/2020
Small reminders :
To vote in GA, the Movements must be up to date in their dues or have made an explicit agreement of payment with the treasurer sylamiet@gmail.com ...before the Ridef.
We expect your "proxy" and "candidacy to the Board" forms as well as your 2016-2017 activity report by June 15, 2018.
Enjoy your reading!
May 25, 2018
2 documents " to vote " in GA will be deposited on the site and sent to the Movements within a few days; please, stay tuned!
Rules of procedure

2016-2017 balance sheet and 2018-2019 budget forecasts
Will follow very soon:
Letter from the Presidency;
Moral report and activity report;
Orientations: balance 2016/2018 and prospective 2018-2020.
Small reminders :
Please return your "proxy" , "board application" forms and your activities report 2016-2017 to us in advance by June 15, 2018.
Enjoy your reading!
May 7, 2018
In preparation for the GA
You have already received few documents: convocation, agenda, proxy, application to the Board and affiliation to FIMEM.
We are currently working on the other documents that we will be sending in waves by June 2018. To make sure you don't miss anything, go there regularly.
Of course, we hope that you will share this information with your members in order to give us your discussions and reflections on these subjects, before or during Ljungskile.
April 18th, 2018
With all our gratitude
Thanks to your generous donations, we were able to open a 2nd wave of solidarity and 3 more Movements will join us in Sweden this summer. We have also offered financial support to working groups in countries C and B that wish to join Fimem in 2018.
Many thanks to you all and we look forward to seeing you soon!
We have sent the movements the necessary documents for GA 2018 in Sweden.
You will also find them on the site, in the space reserved FIMEM.
Please don't forget your password to access it.
FOR BENAIGES SCHOLARSHIP APPLICANTS
We had great difficulty to make functional the return address of the Benaiges Exchange. We're really sorry.
If you have not received confirmation of your shipment, please return your documents promptly to this new address
Deadline: Friday, April 7.
March 8,2018
To all the Women of FIMEM (and indeed), we think at you.
Happy International Women's Day!
February 8, 2018
Registrations for RIDEF 2028
Hey, we want to see a lot of you at Ridef 2018!
Register FAST because Swedishs must confirm the number of participants by March 31, 2018
January 24, 2018
Antoni Benaiges Scholarship : little reminder
1st March 2018: deadline for sending requests to b.benaiges@gmail.com
January 4, 2018
The call for applications for a "Antoni Benaiges Scholarship" will be posted on the site shortly. Stay tuned!
« Antoni Benaiges » RESEARCH AWARD
In collaboration with the Antoni Benaiges Association and the MCEP, the FIMEM presents here the regulation to obtain a RESEARCH BURSARY-« Antoni Benaiges"
Its purpose is to reward and financially support projects on Freinet pedagogy, carried out by educational research practitioners, regardless of their level of education.
December 29, 2017
Final sprint for solidarity requests. Only applications accompanied by the completed form and a copy of the passport will be considered
Send it to "md.formationconseil@sympatico.ca" by Sunday, December 31st at 11:59 pm.
Happy New Year 2018!
07/12/17
Happy Holidays 2017/2018!
A year rich in sharing and discoveries to all the Movements-members of the FIMEM! A great way to update this wish is to register quickly for Sweden Ridef?
But if we want colleagues from the South and the East to also benefit from this meeting, it is essential that individuals and Movements help them if they can.
As you all know, the number of arrivals to Ljungskjile will depend on this generosity. Effectively, the deficit registered by the Ridef of Benin limits enormously all the possibilities of solidarity.
Thank you for informing us quickly of the amounts you could put at our disposal. As for the transfer itself, it could be done by May 2018, at the latest.
Good last right before holidays!
28/11/17
Solidarity
Urgent-You have until December (December 31th at 23h59) to send us a list of potential applicants.
To know the modalities, consult the "guidelines for solidarity" on the FIMEM website. They were also sent to you by email at "google_groups".
November 21, 2017
Translations
To have information quickly, documents are filed in French only most of the time. Translations are added when they are available, so check the site regularly.
Call to all:
FIMEM is still desperately looking for translators- "French-English" and "French Spanish"
If you have these talents and are willing to join our group of translators till Ridef 2018, please send your name and contact information to the following address:
Dohou, Edouard (dohou.edouard@yahoo.com)
16/11/17
Request for solidarity
An explanatory letter and a form to be completed for solidarity requests will be posted on the site in the coming days.
Undertaking the early steps (see proposed schedule) is the best way to present a complete administrative file in time.
Hoping to meet you in Sweden this summer!
Thursday, October 19, 2017
The site "RIDEF Ljunskile, 2018 in Sweden" is under construction but is already online (see the "website" tab, right column, top).
A lot of information are already there and the others will come soon. Please check it regularly.
September 16th 2017
The minutes of the annual Board meeting in Lokossa-Benin (Infor # 70-July 2017) will be published shortly. Have a look!
The translations and the Presidency 's letter will follow shortly.
21.08.2017
A document entitled
"Preparatory steps for a trip"
will be posted here very soon.
Thank you for helping us improve it if necessary.
Good new school year!
19 June 2017
Good summer's holidays to all of you!
A relaxing, energizing and loving release !
Looking forward seeing you again in 2017-2018!

June 3, 2017
Hello everyone,
The Board will meet in Lokossa (Benin) from 28 June to 4 July 2017. Please feel free to send us your comments, questions, suggestions and points that you would like to bring to our attention. Good holidays!
Good summer!
April 10, 2017
No new documents ...but an invitation to react to those already posted on the site: questions, suggestions, comments on numerical evaluation, new categorization and subscription of countries, commodification of education ... All your lights are precious and welcome. Do not deprive us of it.
For your information, the annual meeting of the Board will take place in Benin from 28 June to 4 July 2017
March 13, 2017
Coming soon!
Findings collected in the base groups at Dogbo.
March 3rd, 2017
File evaluation
A questionnaire to collect your evaluation questions and practices will be posted on this site very soon.
Who knows ... your many answers to this questionnaire may be the first step of a field research or a working group on alternatives to the numerical score!
24. february
No tabling of texts this week but some reminders and additional information.
• To contact members of the board of directors or the webmaster: FIMEM website - Column on the left - "Links" – tab Contacts-Email- Recipients ... all you have to do is choose your contact.
• Take a look at flyer 2016-2018 and let us know if there are any corrections - FIMEM-Column on the right -tab "Rules, Statuts-Members" -Folder 2016- 2018
• Desperately looking for translators from "French to English" or "French to Spanish"
Good WE!
4 February 2017
The Infor 69 and the Presidency letter will be tabled soon.
Good reading!
31/01/2017
The infor 68 has finally completed... at least in French. The English and Spanish versions are for ...soon
23/01/17
The FIMEM flyerhas been updated and will be posted on the site very soon (right column under the title: Regulation, member statutes, ...). Use it for all your events and promotions .
We start with the French version ... the English and Spanish versions will come soon.
2/1/2017
You will find on the site two documents concerning the categorization of the countries. As these are still works documents, they are classified in the "reserved FIMEM" area. To access it and send us your comments and arguments, you must register in this space, with Claude Beaunis.
If, as we wish, we are many to choose to work on this theme, then we can open a working group.
30/12/2016
A new communication tool is born. This "What's New", clearly visible on the homepage, will regularly give you "last hour" news from the Board. There will never be any "texts" in the QDN: only one or two sentences for important reminders, strategic information, freshly posted articles on the site that should be read first, ...
Do not miss it, check it out regularly.