Submitted by Luis Ricardo on 02/08/18 – 19:43
Posted in
We kindly invite you to read the Official Newspaper for the 8Ljungskile RIDEF 2018, "Freinet's Print".
http://webnews.textalk.com/freinetsprint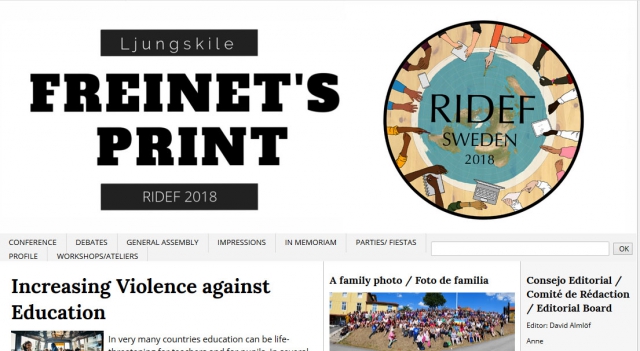 In this number, you will find articles about the workshops, opinions and discussions, general thoughts from the participants, propositions to be discussed at the General Assembly and plenty of news about the international Freinet Movements.
Enjoy!
The Editorial Staff was conformed by:
David Almlöf, Anne Dugué, Catherine Nolin, Renate Thiel, Andi Honegger, Patrocinio Garcia, Luis Ricardo, Peter Steiger, Marguerite Gómez, Christian Therrien, Gabriella Varaldi, Yanis Foteinos and Aurelia Stedransky.
Do come and meet us at "Freinet's Print".