Tout Public
Le webinaire DROIT A LA PAIX POUR L'ENFANCE
a eu lieu le 19 mai 2023.
Organisé par la FIMEM et la commission FIMEM Éducation à la paix, à l'initiative du MCE italien.
De nombreux enfants et jeunes, des éducatrices.teurs, des enseignant.es Freinet d'Afrique, d'Amérique et d'Europe ont communiqué et témoigné par des dessins, des poèmes, des saynettes , de leurs réflexions, leurs propositions sur le Droit des enfants à vivre dans un monde de paix.
Ce fut une belle et fructueuse rencontre pour les mouvements internationaux de la FIMEM ! Qui donne envie d'avoir des suites… Sans doute allons-nous recevoir d'autres précisions par la FIMEM.
--
El webinar DERECHO A LA PAZ PARA LA INFANCIA



tuvo lugar el viernes 19 de mayo de 2023.
Fue organizado por la FIMEM y la Comisión de Educación para la Paz de la FIMEM, por iniciativa del MCE italiano.



Muchos niños, niñas y jóvenes, educadores y profesores Freinet de África, América y Europa compartieron sus pensamientos y propuestas sobre el derecho de la infancia a vivir en un mundo de paz a través de dibujos, poemas y sketches.



Fue un encuentro lindo y fructífero para los movimientos internacionales de la FIMEM. Sin duda recibiremos más detalles de la FIMEM.
--
The webinar RIGHT TO PEACE FOR CHILDREN



took place on Friday 19 May 2023.
It was organised by FIMEM and the FIMEM Peace Education Commission, on the initiative of the Italian MCE.



Many children and young people, educators and Freinet teachers from Africa, America and Europe shared their thoughts and proposals on the right of children to live in a world of peace through drawings, poems and sketches.



It was a wonderful and fruitful meeting for the international movements of the FIMEM! No doubt we will be receiving further details from FIMEM.
Image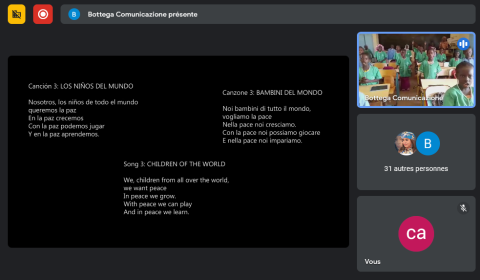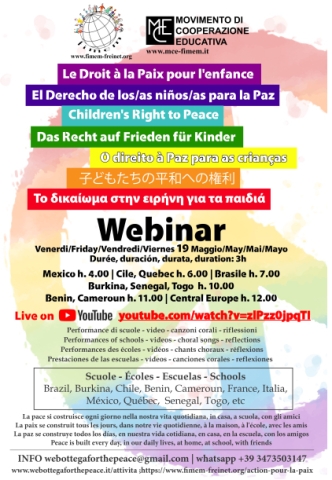 Image